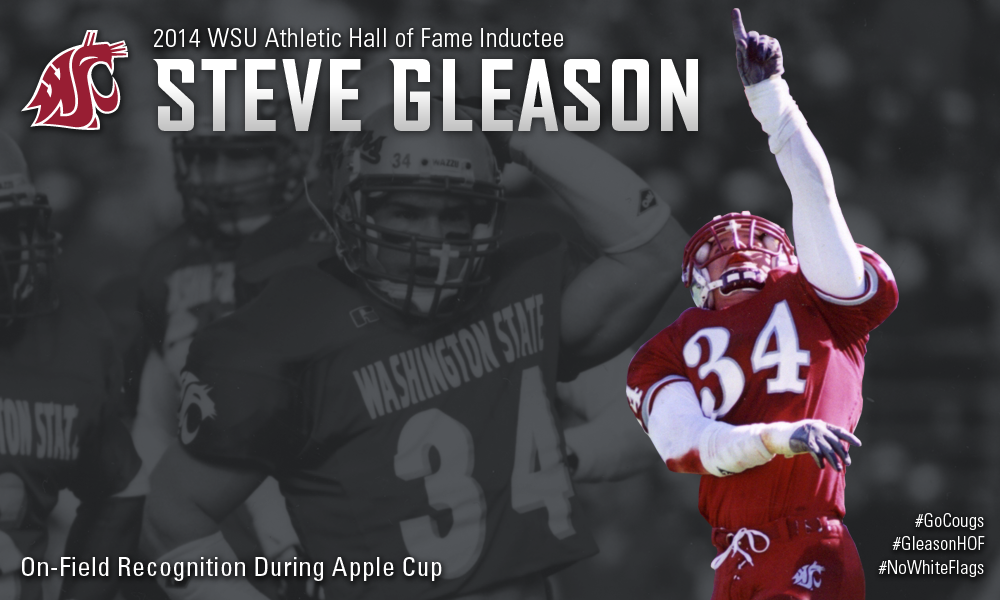 "If we have a purpose in life beyond being a cog in the human machine, mine is to help inspire people and that's pretty cool. I would like to motivate the world."
-STEVE GLEASON
Steve Gleason is a WSU alum and former NFL player who was inducted into Washington State University's Hall of Fame during the 2014 Apple Cup. Gleason played four years at WSU (1995-99). lettering in both football and baseball during his time here. His accolades were more noteworthy on the football field, as Gleason was selected All-Pac-10 three times and was also honored as an Academic All-Pac-10 4 times while enrolled as well. Gleason went on to play eight seasons for the New Orleans Saints (2000-07), but his story isn't about his accomplishments on the field. It's about what he's done post-career that speaks volumes about his legacy.
Gleason went undrafted in the NFL draft, although he was selected by the Birmingham Thunderbolts in the 2001 draft of the now-defunct XFL draft. He signed with the Indianapolis Colts but was cut during the preseason. The New Orleans Saints signed him in November 2000 and he remained with the team for eight seasons. He played in 83 games before his retirement. Gleason wasn't a superstar, but he was beloved and embraced by the Saints, their fans and the community of New Orleans. When the Saints won Super Bowl XLIV, Gleason wasn't on the team but after Gleason's revelation of his diagnosis of ALS in 2011 the team gave Gleason a Super Bowl ring and then-Mayor Mitch Landrieu gave Gleason a key to the city as gifts.
On September 25, 2006, the Saints were playing back in New Orleans for the first time since Hurricane Katrina ravished the city in late 2005. Early in the first quarter, Gleason slipped up the middle through the Atlanta Falcons' line and blocked the punt of Michael Koenen, which was recovered for a touchdown. It was the first TD of the season at home and whipped the sell-out Superdome crowd into an even crazier frenzy.
In 2011, Gleason announced he had amyotrophic lateral sclerosis, more commonly known as Lou Gehrig's disease.
ALS is a disease that results in the death of upper and lower motor neurons. Upper neurons are found in the brain and communicate with the lower neurons, which are located in the spine. The disorder affects voluntary movement, as the muscles eventually grow weak and degenerate. Symptoms of the disease are muscle stiffness, followed by twitching and eventually loss of strength and motor skills. Eventually, even acts as simple as breathing require labored effort. Respiratory failure is the most common cause of death, although malnutrition and dehydration can also result when the swallowing muscles are effected.
ALS is a disease that can be genetic, although 90-95 percent of cases have unknown causes. Most people who are diagnosed with the disease pass away within five years, although there are some outliers such as Stephen Hawking.
Gleason started a foundation during his playing days, One Sweet World Foundation. After Hurricane Katrina, Gleason led workers from his foundation and other foundations as well in distributing "Backpacks for Hope", which spread supplies and hurricane relief to young victims. Over 7,000 backpacks were donated and distributed overall. Gleason would also donate his hair to "Locks of Love" for cancer victims and spent much of his time in the New Orleans Children's Hospital.
After being diagnosed with ALS, Gleason started two other foundations, The Gleason Initiative Foundation and The Gleason Family Trust, which he later united under the name "Team Gleason." Team Gleason travels around the country fundraising to help provide care and technology for other people who are also fighting ALS. Team Gleason also helps spread awareness about ALS and tells the courageous stories of individuals who refuse to roll over and surrender to ALS.
In 2012, the Saints unveiled a bronze statue of Gleason's block and entitled the sculpture "Rebirth." The punt is looked at and embraced by the community of New Orleans as a symbol of the community's ability to regroup after the devastation of Hurricane Katrina. Saints team owner Tom Benson also said that the statue would also pay tribute to Gleason for the lasting impact he has had on countless others' lives.
Earlier today, the Senate approved a bill that will make voice-operated equipment more readily available for ALS patients who are covered by Medicare and Medicaid. The bill is named "The Steve Gleason Act of 2015".
SOURCES
http://www.neworleanssaints.com/news-and-events/article-1/Saints-Unveil-%E2%80%9CRebirth%E2%80%9D-Sculpture-of-Likeness-of-Steve-Gleason/74d7814d-8c1a-47d6-b0b0-94ff1b26a2a0
http://www.nfl.com/videos/new-orleans-saints/0ap2000000147592/Steve-Gleason-blocks-Falcons-punt
http://www.nola.com/politics/index.ssf/2015/04/senate_approves_steve_gleason.html
http://www.scientificamerican.com/article/stephen-hawking-als/